︎︎︎ Stockholm



Going to an exhibition: To Play Card Games
27 March 2021

︎ Location: Zoom (online)
Artist: Fredda Berg

Plot: You have been given a tool of great power. By inviting others to join your imaginative quest, you might just push the very limits of possibility.

Task: Borrow the cards from our workshop, or create your own. Use an exhibition space as your playing field and invite a stranger to join you.
Index Teen Advisory Board met with emerging artist Fredda Berg to talk about truth, power play, and techniques for bursting bubbles. The more we looked at the power metrics within the art world, the more it seemed as if the game was rigged and fair play had flown out the window. Meaning it was high time to shuffle some cards and ruffle some feathers!

Guided by curiosity, conversation and the intelligence of play, we set out to create a stack of calls-to-actions, like a deck of tarot cards, hinting at a possible future. Designing our own game gives us a chance to, quite literally, rewrite the rules. As game makers we can have a hand in handing over new hands.

The cards act as a tool, allowing us to widen the scope of our presence, geographically as well as temporally. Through them we speak with whoever might be looking, whenever they might be doing so. We can select our players, hand cards over in person, or roll the dice on destiny by leaving a card for anyone to find.

For imagery we used open source stock photos; the disruptive core of internet culture meeting the disassociated irony of a post-truth generation of meme makers. Starting to feel flummoxed? Buckle up, we're just getting started.

Artist Fredda Berg leading a workshop where playing cards for the upcoming Game Manual are co-created with Index Teen Advisory Board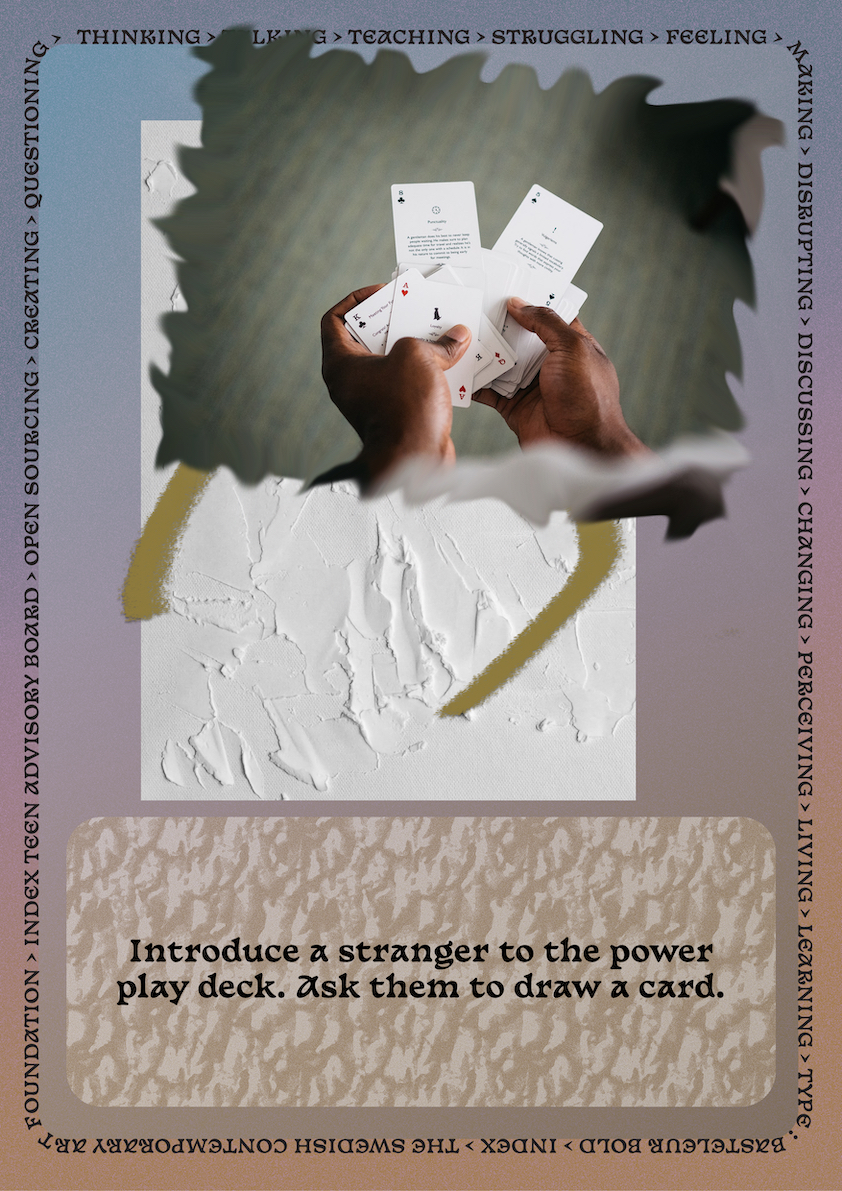 ︎︎︎About the artist

Fredda Berg (SE) is an artist working with sculpture, ceramics and graphics. He works with themes surrounding futurity, representation, fiction, health and linearity. His artistic practice emphasises the importance of queer and historically diminished stories being part of social and cultural canons. Berg holds a BA in Ceramics & glass, and a MA in Craft from Konstfack, University of Arts, Crafts and Design. He is a co-founder of Queertopiafestivalen and the former artist collective Apelns graf, previously situated at Studio Mossutställningar. Earlier collaborations include SFI, Stockholmsskolan deluxe and Tensta konsthall.
www.artworks.se/konstnarer/fredrik-berg